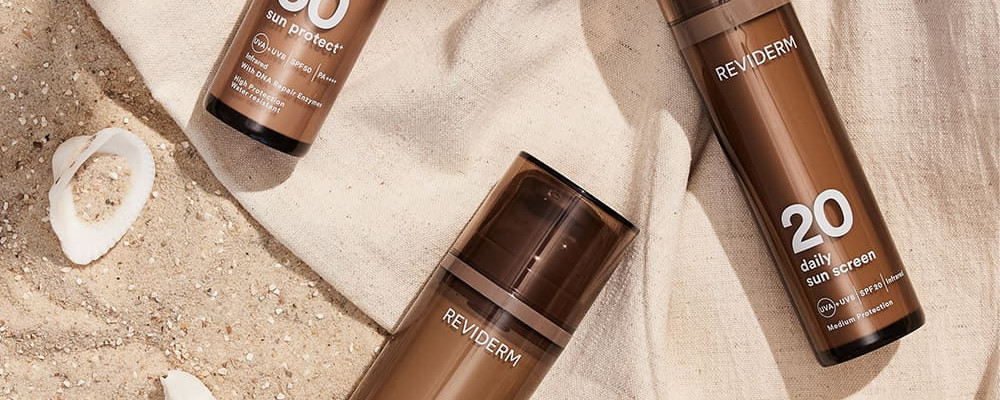 With summer approaching, upcoming vacations and long exposure to the sun, many of us are thinking about quality UV protection. That is why in this article the PremiumCare.Shop team will introduce you to the SunCare product line from the REVIDERM brand. They are suitable for any type of skin and solve a wide range of problems, details are given below.

SunCare created by REVIDERM with skin care in mind
You love the sun, REVIDERM loves your skin! The SunCare sun protection line has been created with care for all types of epidermis. The main components of the products of this line are hyaluronic acid, special UVA / UVB filters, vitamin E and other elements beneficial for the skin. Whether cream, spray, gel or emulsion: high-tech anti-aging formulas with UVA/UVB filters protect the face and body from sunburn, premature skin aging, dermatoses and moisture loss.
The benefits of SunCare products include:
Heavy-duty and multifunctional protection against thermal stress of different levels and any needs;
Anti-aging and moisturizing ingredients that prevent skin aging and moisture loss;
Biocompatibility with all skin types and the presence of protection products for both face and body.
Are you interested? Next, we will talk about the products that are part of the SunCare line. Start preparing for safe sunbathing today.
REVIDERM SunCare Sunscreens
The SunCare product line provides direct protection during sun exposure and after sunbathing.
Apply REVIDERM products sunscreens and sunbathe and don't worry, SunCare protection works quickly and reliably. However, take note! Experts do not recommend staying in the sun for a long time, even if you use sunscreen and renew it regularly.
All of the above spf care products from the SunCare product line by Reviderm are available in the PremiumCare.Shop online store at the best price with worldwide delivery! You can buy them in just a few clicks.
Still have questions about SunCare by REVIDERM? We will be happy to answer them in the comments. Write them right now!

Author: PremiumCare
All materials