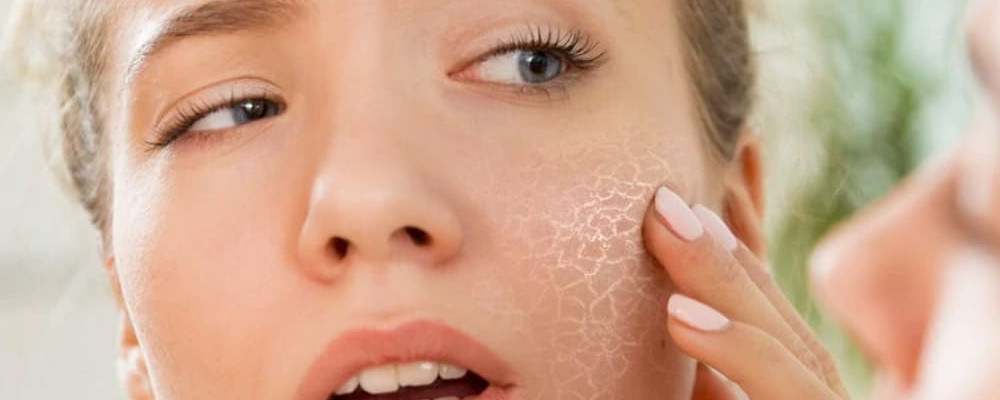 Both dry and oily skin can be dehydrated, which is not always obvious for the owners of the latter, because a lot of sebum is released. In order to determine this, it is enough to analyze the condition of the epidermis - if it regularly shines, but it is tightened and flaky, especially after washing, then the skin is most likely oily and dehydrated. In this case, your dermis needs special care. We will tell you how to properly care for oily dehydrated skin below.

Oily dehydrated skin: how does it appear and what is the reason
First of all, you need to understand that dehydration is not a type of skin, but reflects its condition, in this case, dehydration. Most often, in addition to tightness and peeling, in owners of oily skin, dehydration is manifested by enlarged pores, inflammation, dull and uneven complexion. Have you noticed this? So, your dermis needs to be hydrated.
The main cause of dehydration of the oily dermis is often improper care. For example, cleansers are alcohol-based or contain alcohol derivatives. Applying such cosmetics, we get the opposite effect - the skin shines even more and becomes dehydrated. Also, improper care of oily dermis includes a complete exclusion from the use of moisturizers. In no case should they be excluded; they just need to be chosen correctly.
Other causes that can cause dehydration include:
Insufficient consumption of pure water - many people think that if they drink a lot of drinks, tea or other liquids, then drinking water is not necessary, but this is not at all the case. It is necessary and preferably a lot to consume water in its pure form, experts recommend about 2 liters per day.
Improper nutrition and alcohol consumption - in the first case, it is better to consult a specialist who will tell you how to balance the diet, in the second case, it would be more correct to refuse altogether.
Bad habits, unsuitable climate, frequent sun exposure, antibiotic treatment can also cause dehydration.
If you feel that the skin is dehydrated, then first of all consider all the above listed reasons, most likely the problem lies in one of them.
How to take care of oily dehydrated skin
Proper care of this type of dermis will not only help with the problem of dehydration, but also correct the production of sebum. So, what are the basic rules of care procedures:
Choose products for cleansing and make-up removal that do not foam and do not contain soap or surfactants. It is better to cleanse the skin with light gels or milk, preferably on a natural plant basis. If such products have an antibacterial effect, then this is also a plus in care.
After cleansing, apply a mild tonic without alcohol and preferably with pH-regulating and anti-inflammatory properties.
Choose serums and creams with a light, thin texture that will not clog enlarged pores, but rather provide proper and deep hydration.
Do moisturizing masks and light peels at least once a week.
In addition to general recommendations, it is also advisable to take vitamins and minerals to improve skin condition, do not forget about proper nutrition and plenty of clean water.
Oily Dehydrated Skin Care by REVIDERM
Given the relevance and volume of the problem, the REVIDERM cosmetic brand has released a whole series of products for oily dehydrated skin, which is designed for both home and professional use. Below are presented some products that are ideal for dehydrated skin and can be the basis for your daily skin care routine, which is held in the morning and in the evening.
REVIDERM is a professional German cosmetics of the premium segment. The main feature of the brand's products is a targeted approach to skin problems and, as a result, a wide variety of care products and ready-made solutions for a particular pathology.
PremiumCare.Shop is the authorized reseller of the REVIDERM brand. Here you can buy face skin care products for oily dehydrated skin at the best price with worldwide delivery!
Do you have any questions about the topic? We will be happy to answer them in the comments. Write them right now!

Author: PremiumCare
All materials