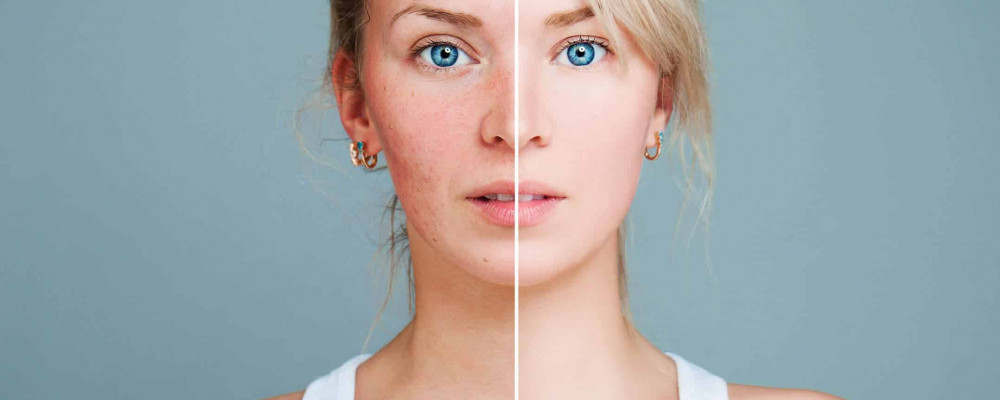 Dear friends, in private messages you quite often ask our consultants questions on the selection of skin care products for couperose and rosacea. Therefore, we decided to prepare this material and talk in more detail about what these diseases are, why they develop and how to properly care for skin prone to such manifestations.

Facial skin care for rosacea and couperose: features, recommendations
The cause of rosacea is a genetic feature of the body - small blood vessels located close to the surface of the skin. Due to stress, sudden changes in temperature, spicy food intake, hormonal drugs, and other factors, blood flow in the capillaries is disturbed, blood stagnation occurs, which manifests itself in a scattering of red "stars" on the skin. Most often, such spots appear on the following face parts: on the forehead, nose, cheeks, chin, under the eyes.
Owners of sensitive skin also often complain of discomfort - dryness and burning in the area of such redness. If you do not take special measures, do not use medications and care products, an inflammatory process may begin on the skin over time. Painful bumps and pustules form on them - the disease passes into a more complex stage, rosacea.
If your skin is predisposed to the appearance of such aesthetic features (especially often, as practice shows, people with light sensitive or dry dermis are prone to rosacea), take care of special care for it.
Home care for rosacea and couperose includes:
Careful cleansing. Do not use ordinary soap for washing (may cause overdrying) and do not rub delicate sensitive skin too much to avoid additional traumatization.
Mandatory tonifying. To restore acidity, moisturize and soothe the inflamed dermis, soft tonics without alcohol will help.
Nutrition and hydration. Couperose skin needs nourishing and moisturizing serums and creams. It is desirable that they additionally contain components that help strengthen blood vessels. These can be vitamins C, E, PP, K, rutin, panthenol, centella asiatica, winterbloom extract, etc.
UV protection. The sun's rays have a harmful effect on all types of skin, especially sensitive dermis with a tendency to couperose and rosacea. To avoid exacerbation of the disease, experts recommend using cosmetic care products with SPF protection of at least 30.
Couperose by Reviderm - professional skin care products for rosacea
German manufacturer of innovative dermatological cosmetics Reviderm has developed a special line of products for facial care for rosacea and couperose. Couperose by Reviderm is a multi-level skin care line designed for redness and rosacea prone dermis, as a home care for rosacea (as an adjunct to medical treatment).
The line includes the following cosmetics:
Reviderm, in addition to Couperose line, offers other products for skin prone to couperose and rosacea, including:
Serum set REVIDERM Skin Comfort Program. Consists of 4 serums (each for 1 week of use). Recommended for the healing and regeneration of all skin types, especially for the dermis that is under stress, prone to dryness and loss of volume, suffering from redness.
REVIDERM Activating Gel Mask. It improves blood circulation, cleanses the dermis of impurities, and promotes the process of tissue repair, better absorption of active substances from products applied after. Recommended for systematic facial care for rosacea - use 2-3 times a week.
You can purchase Reviderm Couperose products for daily skin care with rosacea in our store. PremiumCare.Shop is the official distributor of the brand, helps with the selection of cosmetics, delivers orders to any corner of the world. Contact us!

Author: PremiumCare
All materials