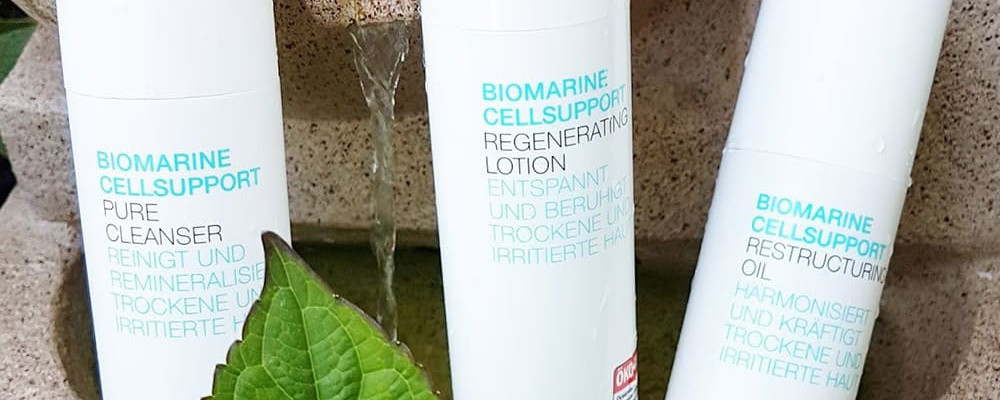 Sensitive skin is one that quickly and sharply reacts to irritants - tap water, cosmetics, wind, cold, food. Reactions may include redness, itching, flaking, tightness, tingling, and signs of rosacea (spider veins).

In this condition, it is necessary to carefully select care products, focusing on sebum-regulating and restoring products. They should not contain aggressive ingredients, fragrances, essential oils, alcohol.
Here's a step-by-step guide for the care of your sensitive skin. The special complex BIOMARINE CELLSUPPORT from German brand Oceanwell (manufacturer of organic premium cosmetics) will help soothe the epidermis, increase its protective functions and maintain it in normal condition.
Stage 1. Cleansing
First of all, sensitive skin needs proper cleansing. Impurities that accumulate on the epidermis overnight and during the day can provoke inflammation. But they should never be removed with soap or harsh scrubbing agents. It is also not recommended to use tap water (preferably mineral or boiled).
Suitable product:
Please note: if you were wearing cosmetics, you must first wash it off with special means (for example, cleansing milk for makeup removing or hydrophilic oil).
After washing, do not rub your face with a towel, but pat it delicately.
Stage 2. Additional care
After cleansing and before applying the cream, you can use various products that additionally moisturize the skin, soothe it, regulate sebum or even prevent age-related changes (which sensitive skin is very susceptible to).
Suitable products:
You can also use tonics or toners (no alcohol required). Masks - non-drying on the face and non-fabric. Thermal water will be useful - it will relieve the sensation of tingling and dryness.
Stage 3. Cream application
Choose a product according to your skin type. You need creams that are light in texture, regenerating, soothing and, of course, well moisturizing. The best choice is a natural cream specially formulated for sensitive skin.
Suitable products:
Important: Don't forget sunscreen too. Sensitive skin (and any skin) should in no case come under the influence of ultraviolet radiation.
All the products presented in this article can be bought in the premium and organic cosmetics online store Premiumcare.Shop with delivery throughout Europe and worldwide. We are the authorized reseller of Oceanwell brand. Premiumcare.Shop cooperates only with proven premium brands that are focused on environmental friendliness and naturalness of products.

Author: PremiumCare
All materials